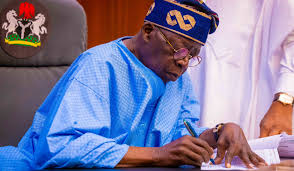 President Bola Ahmed Tinubu (BAT) has appointed 20 new federal commissioners to the National Population Commission (NPC). Nine current Federal Commissioners have also been reappointed to a second term in office.
The new appointments were made known by Tinubu's spokesperson, Ajuri Ngelale in a statement on Wednesday.
However, nine of the 20 new appointees are currently Federal Commissioners who have been reselected for a second term.
Their names are Dr. Clifford Zirra (Adamawa), Mr. Chidi Christopher Ezeoke (Anambra), Barr. Isa Audu Buratai (Borno), Dr. Tony Aiyejina (Edo), Mr. Ejike Ezeh (Enugu), Mr. Abubakar Damburam (Gombe), Prof. Uba Nnabue (Imo), Sen. Mudashiru Hussain (Osun) and Mr. Saany Sale (Taraba).
The new Federal Commissioners are Hon. Emmanuel Trump Eke (Abia), Dr Jeremiah Ogbonna Nwankwegu (Ebonyi), Mr Olakunle Sobukola (Ogun), Hon. Temitayo Oluseye Oluwatuyi (Ondo), Hon. Yori Afolabi (Kogi), Dr Aminu Ibrahim Tsanyawa (Kano), Ms Sa'adatu Dogon Bauchi Garba (Kaduna), Hon. Olakunle Sobukola (Ogun), Ms Mary Ishaya Afan (Plateau), and Mr Ogiri Itotenaan Henry (Rivers).
Moreso, Tajuri stated that the president has charged the new and returning NPC Federal Commissioners to ensure they carry out their respective roles and execute all measures taken by his administration to successfully appropriate accurate population data which would be used in providing long lasting solutions that would positively counter the socioeconomic and political issues in Nigeria.